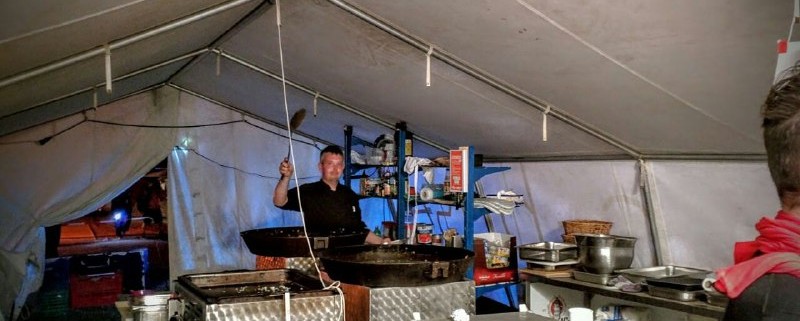 Field kitchen for 300 people
Background
The term c-base referres to both the association c-base e. V. in Berlin who maintaines the club rooms as well as a crashed space station, that is, according to the founding myth of c-base, located under Berlin-Mitte. Originally designed as an "extended living room" for the 17 founding members and opened on the 12th August 1995, it developed into the central point of the Berlin hacker scene and is by now internationally regarded as one of the nuclei of Hackerspaces.
c-base went as a group of about 100 people to the "Chaos Communication Camp 2015" in the former brickyard Mildenberg and celebrated the 20th anniversary of the association there. Of course, each of these 100 people could've supplied themselves with food but since it was important to us that the participants are able to invest a lot of time in the construction of the installations, I organized a canteen / kitchen.
Tasks and Requirements
We needed to provide about 300 people with three meals a day over a period of 10 days. The amount of eaters was so high, because this kitchen should serve all groups from Berlin, so not only the participants of c-base e.v. but also the CCCB e.V. and Afra e.V. members. We also supplied food for a group from New York. There were strict guidelines on the use of electrical appliances – although there was electricity for each participant, we could not use electric boilers or electric stoves. We lacked informations regarding the drinking, fresh and waste water supply throughout the planning, so I had to plan for multiple scenarios. Due to the large volume, we had to assume that we would overwhelm the local supermarkets, the food supply therefore had to be sourced by delivery from Berlin. This problem was  amplified because normal cars could not load the required amounts. Due to the amount it was necessary to know in advance when a particular meal would be cooked and in what quantity. This enlarged the planning effort enormously.
Water and sewage
Throughout the entire planning phase, it was necessary to assume that we could not get either fresh water or sewage. My plan was to create a sump pump for the sewage from which the waste water should be pumped into IBC containers, which should then be transported by offroad wheel loaders. Fresh water would have been delivered in this scenario, also per IBC containers, drinking water would have to be brought in special containers by foot and hand waggon.
Fortunately, it was possible to get both sewage and fresh water from piping, but since the water pressure would definitely not be enough for a kitchen, a pump system and a buffer tank with 1500l volume was organized, which provided a constant water pressure. The fresh water was distributed to the 6 sinks and to the dishwasher. The sewage was collected in a metal box and from therewas pumped 50m to the next wastewater pumping station.
Procurement of Foods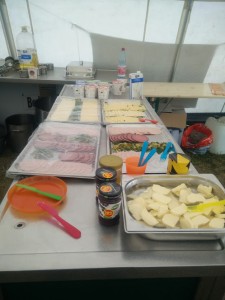 After I had discussed and planned recipes with professional chefs for several weeks, I began negotiations with a wholesaler who was willing to deliver the goods. These negotiations were very time-consuming because it was a total of more than 300 items with a total value of over 5000 €. Meat and meat products were supplied by a local butcher, bread and rolls from a local bakery. Both the grocery and the baker had to be changed during the event, because the terms offered were changed during the event. This produced an enormous logistical effort, as our needs had to be coordinated with the new offerings. In particular, the delivery of food was a challenge, since large trucks had to be unloaded and the goods had to be moved as quickly as possible into our refrigerated trucks or in the rack system for dry storage.
Infrastructure
For cooling of the foods we rented a refrigerated truck with hydraulic platform. For frozen foods we brought a big freezer. Furthermore, I organized heavy load shelving as dry storage. Kitchen countertops made of stainless steel are unfortunately very expensive to rent. I talked with the brewery that c-base cooperates with, and they rented us for a very affordable price so called foldable counters. These counters are normally used for pouring and selling drinks, but they have a stainless steel surface and can therefore also be used in the kitchen. Overall, we had a total volume of about 300l in the various cooking utensils and a cooking surface of approx 1,5m², divided into three large Cast iron pans. These pans were heated with a total of 61kW power from propane burners. It was planned to rent a convection oven – unfortunately we learned at the last minute that the delivery will not be possible. This forced us to further replanning of all dishes and meals in the last minute.
Volunteers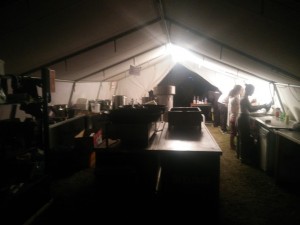 The entire kitchen was operated by volunteers. Everyone who wanted to be supplied by this kitchen was asked to do a kitchen shift. The refinancing of the costs worked by donations. We presented the daily expenses on a whiteboard and asked each guest to donate as much as the person deemed appropriate. In this way we could also supply those who were financially less well equipped. Per shift we needed at least six volunteers, often we had up to 10.
Of particular note is the performance of Stephan Haas (smoerbbln). Initially, it was planned that at least two, preferably three professional chefs alternate in the planning of meals and guidance of volunteers. Due to various reasons, this enormous burden unfortunately fell on the shoulders of smoerbbln who carried it alone until the end of camp. I would like to express my enormous gratitude on behalf of all people that were fed during the camp to smoerbbln.
Success
The kitchen was a success – all hungry people were fed, all costs were covered by donations. Next time I'll make sure that we have more chefs, so that the workload of planning and managing is spread on more shoulders. Unfortunately, the breakfast supply was not sufficient – more coffee-capacity and a more reliable bakery are the main factors for the next field kitchen.
Finances
The costs for the leased equipment and infrastructure was financed by c-base and ultimately covered by all participating groups. This amounted to about 2500 €. To pay the food vendors, we loaned € 3500 from CCCB e.V. This loan was repaid after the event. There was a small surplus, which was used to pay for unforeseen costs.
https://www.ijon.me/wp-content/uploads/2015/08/image02.jpg
462
800
ijon
https://www.ijon.me/wp-content/uploads/2016/02/logo-website-ijon-300x138.png
ijon
2015-08-21 14:14:56
2018-03-24 20:03:07
Field kitchen for 300 people