32c3 as an abbreviation stands for the 32th Chaos Communication Congress, which took place in Hamburg. The motto of 32c3 was "gated communities". c-base went as a group to 32c3 and wanted to build an installation there as part of the motto.
Concept
We planned to build a fence, which consisted only of the fence posts without connections between the posts, so a "permeable" fence. The symbolization of the fence was done with laser diodes, spanning visible laser beams between the fence posts.
Realisation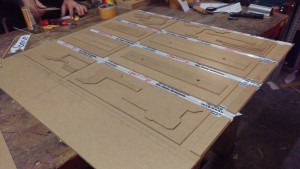 The fence posts were vacuum formed. For this we created a mold from multiple layers of MDF, that were cut with the scroll saw. The shape of the mold was flat – the outer shell of the fence posts was "unrolled" and had to be folded at four places to make a post. For the lower levels of the mold a jointer was used to chamfer the edges of the MDF. Vertical surfaces on the mold have a tendency to jam in the plastic plate, so all edges must be beveled at 5-7 ° or more. This ensures the easy release of the mold from the plastic sheet. My participation in this project during the mold making was only of an advisory nature, later I vacuum formed all plastic sheets and performed the bends. The electronic equipment, painting, assembly and transport to Hamburg was carried out by other members of c-base.
Folding of vacuum formed parts
The first sheet was bent manually with two aluminum profiles and a hot-air gun, but this led to an inconsistent result. Because of this I designed a bending machine for plastic sheets on short term, the so-called "knickschmelze" (c-lang: cniccmelce).I have written a blogpost about this project.
A short Video of the process is here: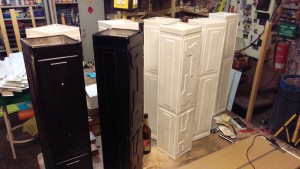 Inside of the Post
Two of folded post pieces were put together and were stiffend with a piece of roof batten that runs through the entire fence post. Around this batten RGB LED stripes were wrapped so that those portions of the fence post that were masked before painting  allow the light from inside to pass through. Furthermore, a voltage regulator for the laser diode was mounted and the laser diodes were hotglued in the vacuum formed recesses.
Result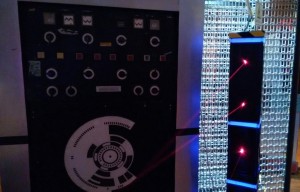 The laser fence was finished in time and emphasized and highlighted the area of the c-base assembly on the 32c3 visually. After 32c3 it was brought back to c-base and now functions there as decoration.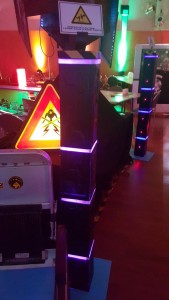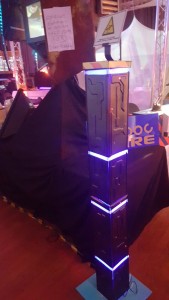 https://www.ijon.me/wp-content/uploads/2015/12/laserfence.jpg
656
1024
ijon
http://www.ijon.me/wp-content/uploads/2016/02/logo-website-ijon-300x138.png
ijon
2015-12-27 15:12:08
2016-08-20 16:42:36
Laserfence for 32c3